Monday, June 13, 2005
Second straight dip into the mailbag.
Still thinking up a funnier (well ok from my point of view) post, but until I form something concrete, just thought I'd share an email I got today.
And it's from, surprise, surprise, from the
super bitch from hell
ever so delightful
gratuitous position at school to avoid lawsuits
career "counsellor", Luann Bylik.
CAMERA BAR is looking for a General Manager.
If you or someone you know has experience in the hospitality industry and is also passionate about film, we would like to meet them.
The job has many responsibilities and requires a wide variety of skills but there are many benefits.

We are looking to hire someone by the end of June.
Please forward this message to anyone you think would be interested and ask them to contact:

Simone Urdl
camerabar@sympatico.ca
416-530-7856
1028 Queen Street West, Toronto
What a wonderful opportunity! After spending nearly $25,000 to learn how to write, direct, light, shoot, edit, and record sound, I finally have the opportunity of a lifetime. Surely that alone will qualify me for being passionate about film.
But wait, neither Bernie's nor Andrew's (the only two that mattered really) classes taught bartending. Won't I have to go back to the bartender's college (yup there is one in Toronto) to get my S.M.A.R.T. certificate? Wait. We shouldn't pay $25,000 to learn how to be a bartender, without having the proper bartending cards. Tsk tsk, Ms. Bylik, I hereby, as A Golden World's time honoured (well month honoured) tradition, give you this...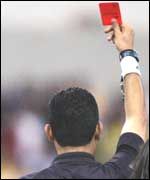 Just for being a complete idiot. Oh, and Luann, erm... how do I explain this?
I GOT A JOB IN VANCOUVER!!
Maybe, just maybe, you might want to look outside the internet (which I've already found 100 times as many jobs as you) and look to cities that have ACTUAL PRODUCTIONS in them that don't require major union experience. Like the kids you're trying to find work for.
And maybe you should get off your ass more than once a month, which ironically, is the number of emails I get from you.
Oh just for the hell of it...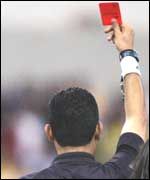 Just for being another cash drawing nothing.
neolithic pondered at
17:02