Thursday, June 02, 2005
Vancouver Top Ten
Well, to be really honest, I'm bored, and I feel a big belt of writer's block right about now. As such, I'll do what David Letterman does as
filler
entertainment. A top ten list (which funnily enough I did last post. You might as well laugh here, I don't expect the jokes to be too funny today).
TOP TEN REASONS TO RELOCATE A GOLDEN WORLD TO VANCOUVER
10. I can get paying work out there in film. I can't get a job at McDonalds in Toronto.
9. I can get away from irritating Leaf fans who think their club will have a miracle season like the flukey Red Sox.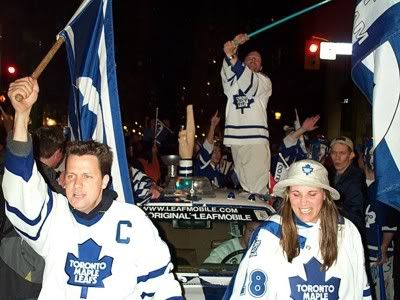 Leaf Fans after a pre-season, or friendly match.

Potentially the smartest Leaf fan ever.
8. Dawn will feel more at home with Vancouver's rain season, resembling that of the UK's, which lasts from 1 January, and going until 31 December.
7. Vancouver doesn't shut it's major freeways down for maintainence or marathons for entire weekends.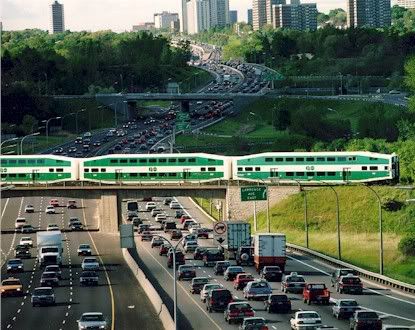 This is the Don Valley Parkway during light traffic. During rush hour it can take close to two hours to travel 13 miles along this stretch of road. And they close it almost 1 weekend per month in the summer.
6. Vancouver is hosting the 2010 Winter Olympics. Hey, I don't have to rush for a place to stay. Toronto, who wants to be like New York and America, being the "best" (though failing miserably), has bid multiple times for the Olympics, and failed miserably as well.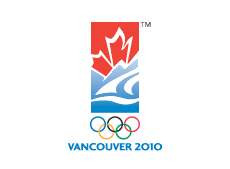 The Vancouver Olympic Logo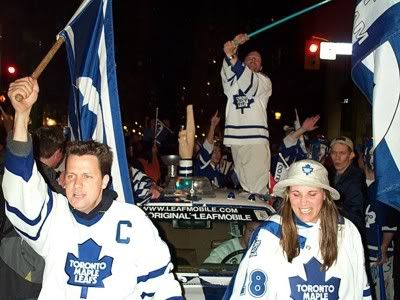 Toronto fans still can't get over that exhibition win. Somebody should tell them we haven't had NHL hockey for about a year.
5. In Vancouver, pot is nearly legal.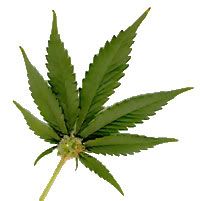 4. Unlike the olden days (well, the 20th century and previous), one would have to send mailers out via regular post to inform others of their new addy. With the internet
TM
, that changes. I can just send a forward
with a bunch of viruses muahahahahah
with a happy face letting others know my new contact details.
3. Super bonus:
http://agoldenworld.blogspot.com
does not have to change! I can get into this account from any computer with an internet
TM
connection.
2. Extra super bonus: I will have to change my cell number from a 416 to a 604, therefore destroying the months of hardwork telemarketers have put in trying to sell me their wares. Ok, the hard work has been trying to fool me even though I have call display.
1. Vancouver, simply put, is Montreal without the french. Yup, a relaxed, anglo paradise.
neolithic pondered at
20:22