Wednesday, September 28, 2005
Things you learn while recovering from day long hangovers
God it takes going on vacation and getting out of the loop to see what's really going on. On Sunday, after a casual drive through the metropolis of Quesnel, BC, Dawn and I decided to make a quick stop at
Tim Horton's
, to relax a little from the drive, and put a coffee in to counterbalance the previous night of drinking.
As per my habit, I grabbed the newspaper, and flipped to the crossword, which was already done.
DAMN! After fully perusing the paper, it dawned on my why the crossword had been finished. The paper was well over a week old. Guess the news takes a week to get up to the Cariboo. It's still faster than I ever seem to get it.
On the opinion section, there was a few letters to the editor published that way, in response to former Prime Minister Brian Mulroney's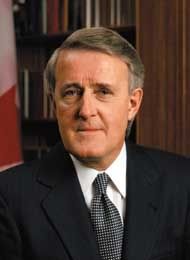 comments regarding his belief that he is Canada's Greatest Prime Minister.
What was more frightening was that there are people who actually support this notion. Like David Searle, of Etobicoke, Ontario, who wrote this lovely send up, which I will quote verbatim.
I have the highest regard and respect for Brian Mulroney, Canada's decisive former prime minister.

However, for Brian to brag that he was the best prime minister since John A. MacDonald, is to overlook this Conservative's first choice, Robert Borden.

After which, I would inflate Mulroney's bloated ego by rating him No. 2.

There is no question Mulroney's free-trade agreement smashed through the walls of protectionism erected by U.S. Senators.

The GST, which replaced the export-hampering manufacturer's sales tax, likewise accelerated exports while furnishing the revenue to reverse the near bankrupting impact of decades of accrued, annual defecits.

Also, the deployment of 12 modern, Canadian-built frigates boosted the morale and prowess of our navy.

But Brian does sound like a bitter old man when he spews venomous rubbish about his successor, Kim Campbell.

I am convinced Campbell lost the election in the fallout over her pessimistic unemployment rate forecast, which Jean Cretien capitalized on, and because she shared a decency and honesty on par with Tory statesman Joe Clark.

Lastly, while I miss the days when the Cold War warriors Brian Mulroney, Margaret Thatcher, and Ronald Reagan stood united, Mulroney did cave into pressure by ditching a plan for new, nuclear-propelled, attack submarines.

By doing so, he left our coastline vulnerable to hostile nations and terrorists.
What a load of shit. I do applaud that Mr. Searle at least looks back in history enough to find other candidates, but please. Get the fuck off of your right wing high horse of fear induced thought just for one minute, please. Though there is argument to whom I believe is the best Prime Minister ever. I agree that Lester B. Pearson, Wilfrid Laurier, William Lyon Mackenzie King all did great things, but my choice still is the truest, great leader of them all.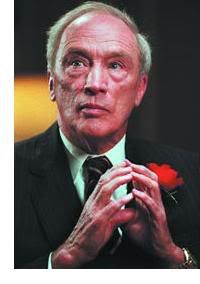 Pierre Elliot Trudeau. My respect for this man is so large, I personally consider him not only the Greatest Canadian PM, but one of the best leaders in world history.
However, just to "one up" old Power Chin,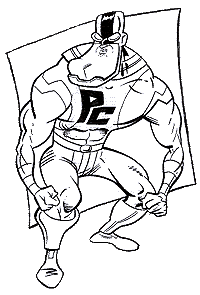 let's see how the Northern Magus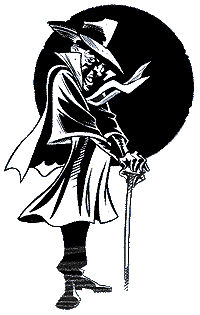 stacks up. (Hat tip to
Angloman
).
BRIAN MULRONEY
Introduced the GST, which pissed off the whole of Canada, and even made Albertan's pay tax.
Nearly split Canada in two, by sabotaging an ammendment, bringing his (and my) home province of Quebec into Canada officially, not once, but twice. All while Quebec had a strong Liberal, non-seperatist government.
Was imitated too many times, like above, depicted in comic strips, where the only funny point was the massive chin.
Took orders from Reagan, and was not accountable to Canadians.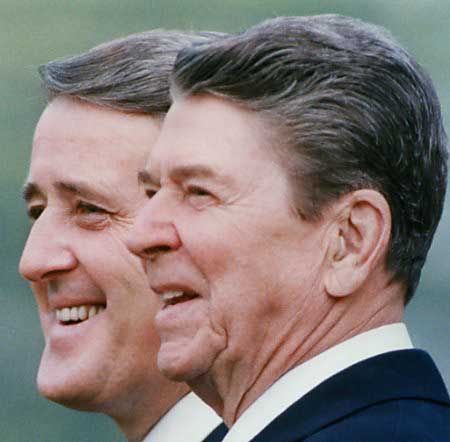 PIERRE ELLIOT TRUDEAU
Brought true independence to Canada, giving Canada the right to ammend it's own constitution, not at the barrel of a gun, but with a handshake and a smile.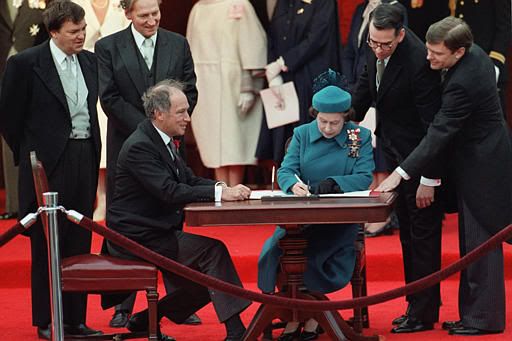 Nearly include Quebec in said constitution, while Quebec was led by Rene Levesque, one of the most powerful seperatist forces Quebec has known.
Encouraged Canadians to be socially responsible, while trying to improve conditions for all Canadians.
Got to hang out with John Lennon and Yoko Ono.
Is imitated by wearing red roses, and pirouettes (just like the one shown below).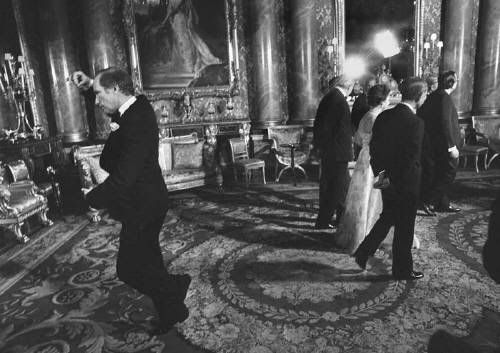 But, in fact, it shouldn't be the leaders who decide amongst themselves who is best, should they? As we live in a democratic society, shouldn't we, the people, make such a choice.
Oh wait, we have. The
CBC
held such a challenge, but for all Canadians.
The Greatest Canadian
.
It seems the majority of Canadians agree with me. Though Tommy Douglas was the Greatest Canadian, he never made Prime Minister, and the only other Canadian greater than Trudeau was Terry Fox. As for Canada's choices on leaders, here's how they stack, from Trudeau to Mulroney.
Pierre Elliot Trudeau, Liberal
Lester B. Pearson, Liberal
Sir John A. MacDonald, Conservative
Sir Wilfred Laurier, Liberal
Jean Cretien, Liberal
John George Diefenbaker (namesake of the 3x20 Dief box), Progressive Conservative
William Lyon Mackenzie King, Liberal
Brian Mulroney, Progressive Conservative.
Wow. Brian, you can't read, can you. Lesson for the day, a one (1) looks just a wee bit different than an eight(8). We Canadians seem to be more humanitarian as opposed to money grubbing oil bandits like our neighbors to the south. Now, Mr. Mulroney and Mr. Searle, just for some salt to the wound, here's some other notable Canadians who we like better than Brian.
Don Cherry
Wayne Gretzky
Stompin' Tom Connors
Neil Young
Shania Twain
Bobby Orr
Mike "Austin Powers" Myers
Maurice "The Rocket" Richard
Celine Dion (wait while I vomit)
...
...
...
Jim Carrey
Michael J. Fox
Mario Lemieux
Bret "Hitman" Hart
Avril Lavigne
John Candy
Rick Mercer
Pamela Anderson (yup, the one with the big boobies)
Gordie Howe
and how could I ever forget old Bill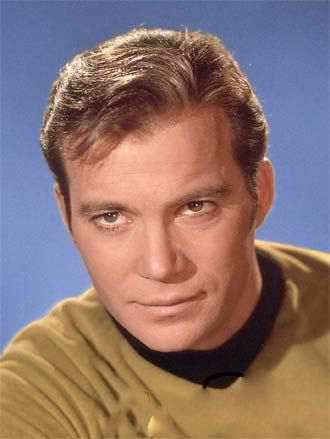 Maybe you Conservitive back benchers should think before you talk.
neolithic pondered at
14:14
Comments:
[url=http://www.concreteresurfacing.me/]Concrete Resurfacing[/url]
1st, you would have to have to prepare the surface. It might have to be clean with no cracks, dusting or scaling. Cleaning the area with h2o along with a light scrub will reveal any deterioration you might have. Energy wash the surface area after which use a warm h2o and bleach alternative for just about any mildew or other stains that you simply come across.Depending about the surface area destruction, you may well require a defined pro or maybe you are able to repair the deterioration yourself with crack and scaling fix methods. That's as well much for me to go into here. You'll find lots of resources that you just can discover for cement area repair.Lots of folks think that there's no alternative to aged cracked or discolored concrete but to remove and replace it when you wish to improve the appearance of your definite area. However, you will find numerous possibilities to makeover an aged dull defined driveway, walkway, patio or any other defined area without possessing to tear out aging definite and set up a fresh 1. Could be the Surface area Appropriate for[url=http://www.concreteresurfacing.me/]Concrete Resurfacing[/url]?
Prior to something else, nevertheless, you need to determine whether the concrete can actually be resurfaced. There are no complex steps here. All you'll need to try and do is inspect the defined surface to produce certain it is in sound problem. If there are widespread, large, or deep cracks, heaving or harm from freeze/thaw situations or [url=http://www.concreteresurfacing.me/]Concrete Resurfacing[/url] if the soil has begun to settle, then it wouldn't be feasible to resurface the concrete floor. If you're not positive what to perform, ask a concrete floor professional to take a look at the defined.
Right here are the distinct decorative concrete floor resurfacing alternatives:
[url=http://www.concreteresurfacing.me/]Concrete Resurfacing[/url]
Concrete Resurfacing
Concrete Resurfacing
Concrete Resurfacing
Post a Comment