Tuesday, October 11, 2005
Burps from Bert... Game 3 recap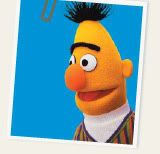 Well, well. What can I say? The official Bert-accu-score
TM
for last nights (okay afternoon here on the west coast) game was Canucks 4 - Red Wings 3, and the actual score for the game was Canucks 4 - Red Wings 2. Close enough. We still won.
But, alas, for the Bert nay sayers, I will say this. Balance was disrupted last night as the Canucks game ran at the same time as the Golden, beloved New York Yankees played, and lost the Divisional Series to the complexity of team names known as the Los Angeles Angels of Anaheim (yup, it's really their name now, and yup, it's sad, sad, sad).
Excuse me while I cry...
...
...
...
...
...
...
As such, to bring balance, the Yankee loss caused Canuck backup goaltender Alex Auld to let one less goal in, hence, utter Golden Perfection
TM
once again, and such, am three for three.
As for tomorrow night's game, against the replacement for the Minnesota North Stars, the Minnesota Wild. And since my buddy
Will
lives there now, it's only fitting that the official Bert-accu-score
TM
for the game should be
Vancover 12 - Minnesota 0
Cha Gheill!
neolithic pondered at
23:58