Thursday, October 20, 2005
Burps from Bert... Phoenix in town tonight.
Yeah, yeah, Bert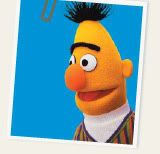 hasn't commented to the last Canucks game. But, alas, do not worry, as a special double game recap will come following the results of tonight's
vicious slaughter at the hands of hockey Gods
game.
Phoenix is in town for the second time this season. As such, the Bert-accu-score
TM
for the game shall be
Canucks 6 Phoenix 2.
Cha Gheill!!
neolithic pondered at
18:09