Tuesday, October 04, 2005
October is upon us...
The
baseball season
is at an end, and the division winners are now playing off to go to the
World Series
. So you know what that means?
The hockey season starts tomorrow. As such, a new feature here will now start.
*BURP*
s from Bert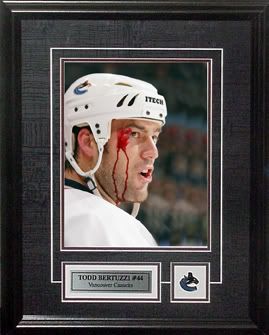 Not this Bert, though it is a cool pic of him. but this Bert...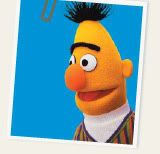 seeing as Quacks from Duck
TM
has already been taken.
As such, first, for predictions as to how the season will stack up, I see it this way: Conference Ranking in Brackets, division leaders ranked 1-2-3 in Conference.
WESTERN CONFERENCENorthwestern Division
Vancouver Canucks (1)
Calgary Flames (5)
Edmonton Oilers (6)
Minnesota Wild
Colorado Avalanche
Pacific Division
San Jose Sharks (3)
Mighty Ducks of Anaheim (8)
Phoenix Coyotes
Los Angeles Kings
Dallas Stars
Central Division
Chicago Blackhawks (2)
Detroit Red Wings (4)
Nashville Predators (7)
St. Louis Blues
Columbus Blue Jackets
Roundup:
Vancouver is clearly heads and shoulders above everyone else. With the return of Bert (the hockey player, not the Sesame Street
TM
character), the Canucks are unstoppable. Calgary will manage a close second behind the Canucks, and Edmonton, with the addition of Pronger, will be a late contender. Colorado, however, will suffer severe negative karma. As the new economics of the NHL have given power, and hence karma, back to the Canadian teams (finally, for fuck sakes), Colorado, who became huge leaving Quebec to become the Avalanche, will see all their good fortune lay to waste. In fact, this franchise will be cursed NOT to make the playoffs until they apologize to the fans of, and return to Quebec City. Besides, nothing of any value ever came out of Colorado.
The Pacific Division will be rather lame. Even Gretzky won't bring the Coyotes enough luck to make the post-season, because they, as the Avalanche, will suffer negative karma for leaving Canada. Wayne, if you want to win, move the club back to Winnipeg. Then Anaheim will never even get close to a Stanley Cup ever again (thank God).
The Central?
Team Geritol
The Detroit Red Wings are beginning to lose their stranglehold on this division. Injuries will decimate this team to the point where you will have to think about rebuilding. And without throwing loads of money around. Detroit may actually have to focus on the NHL draft now.
EASTERN CONFERENCENortheastern Division
Ottawa Senators (1)
Montreal Canadiens (4)
Boston Bruins (8)
Buffalo Sabres
Toronto Maple Leafs (Dead Last in the NHL).
Atlantic Division
Philadelphia Flyers (2)
Pittsburgh Penguins (5)
New Jersey Devils (6)
New York Islanders (7)
New York Rangers
Southeast Division
Tampa Bay Lightning (3)
Carolina Hurricanes
Atlanta Thrashers
Florida Panthers
Washington Capitals
Well, simply put, this conference is too boring to even talk about. Except for the surging Montreal Canadiens. That and the Leafs will also suffer negative karma, as the only Canadian franchise to prosper in the American run and gun free agency system. Leaf fans will revert to their old ways, by cheering the Leafs until they fail to make the playoffs, and then switch to either the Bruins or the Flames in the playoffs, just to go against the Habs and Canucks.
ONE MORE POINT OF BUSINESS
Tomorrow night, Vancouver has their home opener, against the Phoenix Coyotes. The Coyotes have that Gretzky guy coaching them, and also, Brett Hull, the crybaby who became an American wannabe because Team Canada didn't think he played up to par when he tried out for the National Team many moons ago. As such, Phoenix should squeek two goals when Cloutier isn't looking. But Vancouver has Naslund, Bertuzzi, Morrison, Jovanovski, Two Sedins, Anson Carter, Trevor Linden on their roster. Hmmm... that's eight players there, isn't it. Therefore, the Bert-accu-score
TM
for the game shall be
VANCOUVER 8 - PHOENIX 2
Cha Gheill
neolithic pondered at
19:45