Saturday, December 17, 2005
Ahh, the Eastern domination is now on hold
Yes, after some quite stirring success against the teams in the Eastern Conference, it's now back to business as the Canucks are at home this evening for a 7:00 PM meeting, facing Edmonton for the 16th time this season.
But still, there is some unfinished business, Thursday's match between the 'Nucks and the Flyers. The Bert-accu-score
TM
for the game was 5-2 for the Cauncks, whereas the actual score was 5-4, still, obviously, for the Canucks. Well, while Bert and co. were off vanquishing evil, Canada had not only one, but two debates between the four major candidates in the upcoming 23 January federal election, one debate in each official language.
As such, the lack of touch with the home of hockey, Canada, caused the Canucks to give up one goal for each language that the debates were held in, which made the overall score 5-4 Canucks, which gives us...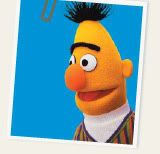 Utter Golden Perfection
TM
.
For tonight's contest, the Oilers will face the best home record in the league, and the Bert-accu-score
TM
for the game shall be
Canucks 6 Oilers 2
Cha Gheill!!
neolithic pondered at
15:19