Tuesday, January 03, 2006
Blogwards 2005 Episode III - Revenge of the Jimmy
Has it been 24 hours already? Well, actually, it feels longer. Our dear friend
Jimmy
wasn't at work today :(
As such, this is the next award:
MOST COMPLETELY RANDOM BLOG
And, in case you haven't guessed, this award goes to the same Jimmy I work with, for his completely random yet hilarious blog,
Jimmy Rules the World
. To give some highlights of his entries, he includes the following topics:
His
review of Dance 360
, which in itself looks more like wanting to watch booty based on the pic.
A combination of Linux with S&M
.
A
Klingon Christmas card
, along with some commonly (well okay, not so commonly) used Klingon phrases.
And the best yet, a self revealing look at what
Jimmy is like drunk
.
This blog is so random, it has several incarnations elsewhere in the blogosphere. But, for being a good sport and a ton of fun to work with, I hereby award Jimmy with this button:
But, for not updating hyperlinks to his other blogs, I hereby award Jimmy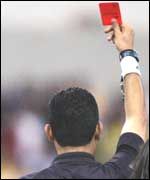 That is all. Until tomorrow.
Bwahahahahahahahahahahaha!!
neolithic pondered at
21:19