Sunday, January 08, 2006
The World's Smallest Political Quiz
Found at
Dawn's site
, which she found via
Nugget
.
And without furhter adieu...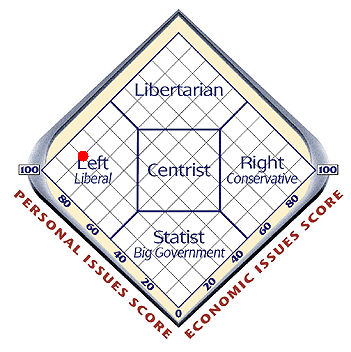 LIBERAL
LIBERALS usually embrace freedom of choice in personal matters, but tend to support significant government control of the economy. They generally support a government-funded "safety net" to help the disadvantaged, and advocate strict regulation of business. Liberals tend to favor environmental regulations, defend civil liberties and free expression, support government action to promote equality, and tolerate diverse lifestyles.
All I can say is...
SURPRISE, SURPRISE, SURPRISE...
The quiz can be taken
here
.
That is all.
neolithic pondered at
11:33