Saturday, February 25, 2006
Hockey Players I Admire Episode I
As you may (or may not, depending on your state of consciousness or sobriety) have guessed, I haven't posted consistently this week (well for the about ten of you that come here somewhat frequently). Being in a funk, for lack of a better way of putting it, I'm literally aching for some film work to return to the lower mainland. Luckily though, working my two days off on a construction site, the General Contracter and I got off on the right foot, seeing as we have the glorious game of hockey and a mutual dislike of the Make Beliefs. Anyhow, our conversation reminded me of something my late Uncle and I always got kicks out of...
Talking about our favourite hockey enforcers, great fights we saw in the NHL, which was topped by fits of laughter, followed by the phrase "God I love hockey!!" As a note for those across the pond, just the tough guys fight. We fans don't riot, we just drink beer in the stands.
Anyhow, one of the names from the past that just keeps coming up is this one.
DAVE "THE HAMMER" SCHULTZ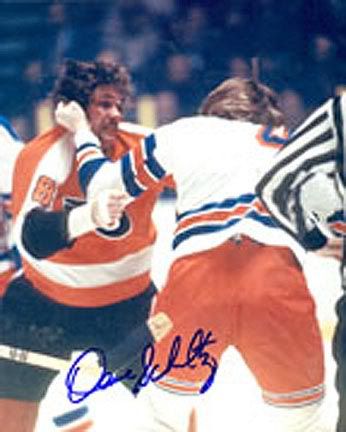 b. October 14, 1949 in Waldheim, Saskatchewan.
NHL Career Totals:
Games: 535
Goals: 79
Assists: 121
Penalties in Minutes: 2294
God I love hockey! And Uncle Dave, I will always remember our hockey discussions/arguments. And we all still miss you.
neolithic pondered at
00:27