Sunday, February 12, 2006
Torino 2006 - Day 1 Highlights
First off, there was a stunning Women's Hockey game today. Yes, host nation Italy played Canada in the first round. The end result? A 16-0 win for the Canadian Women, who also outshot the Italians 66-5.
YEP. 66-5.
I wonder if we can get more shots against Team USA (if we end up playing them).
Also, in a sport near and dear to me, Freestyle Moguls, the last skier in the medal round, Jennifer Heil, got Canada our first gold in these olympics.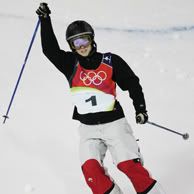 As such, the current medal count for Canada is:
1
GOLD
0
SILVER
0
BRONZE
Oh Canada!
neolithic pondered at
00:01