Sunday, February 12, 2006
Torino 2006 - Day 2 Highlights
Well, Canadian women's hockey still shows it's worldwide dominance, as Canada beats Russia 12-0, outshooting the Russians 43-17. I wonder how the USA would stand to such a thrashing. It should make for an interesting final.
As for medals today, unfortunately Beckie Scott, expected by many to win a medal in the Women's 15km Cross Country, fell a bit short and finished 6th. However, on the oval, world record holder Cindy Klassen, expected to win gold, settled for bronze in 3000m speed skating.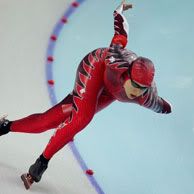 As for the medal count, it is as follows:
1
GOLD
0
SILVER
1
BRONZE
Oh Canada!
neolithic pondered at
22:06